About Us
In 2019, the
Lifelong
Learning
Lodge
was
formed
to provide
training in Nation Development. It is
now opening
its
doors
to offer further training in
Governance, Landbase and Wellbeing
.
The Lodge will focus on enhancing people's knowledge in the area of
Indigenous
Studies
within the Treaty 2 Territory in a learning environment that is reflective of who we are.
Initiated
by First Nations in Treaty 2 Territory, the
lodge
will
work to support
local Nations, members,
and people
as they
gain further training and knowledge that will enhance future opportunity.
The Government of FNT2T
will build on employment opportunities through its regional offices
and our
Inherent Right to
Govern ourselves. 
Our
lodge
is located in
the heart of
Treaty Two Territory
in the
city of
Dauphin
which is also central on Turtle Island.
We will be
expanding programs
to the Regional Government Office
in
Pinaymootang
in the near future
.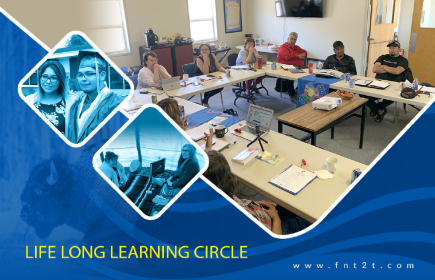 It
is
our objective to give
Local Nations
an opportunity to study
and to learn
in an
atmosphere
that is reflective of who they are. The Lodge will offer specialty courses, seminars,
and workshops
that will
enhance
the productivity of members
and their organizations. 
To support the development of the Nations, it is important to renew the focus
of education to lifelong learning. That is, starting with the youngest of learners, continuing
into adulthood, and having knowledge-keepers support
the learning process and knowledge transmission.
The First Nations in Treaty 2 Territory assert the right to establish an education system that supports
lifelong
learning. 
Philiosophy
To enhance
Indigenous people's knowledge in the area of Indigenous
Studies
and Inherent
Rights
in a way
that is grounded
in
ancestral language,
traditional knowledge,
and contemporary education.
Vision
Enhancing the lives of Indigenous people personally, professionally and socially by offering them learning opportunities in an atmosphere that nourishes their intrinsic gifts.
Mission
To develop a learning environment for Indigenous people that is guided by their interests, talents, and gifts while they prepare themselves for opportunities competitive industries today. 
7 Steps of Rebuilding
We are assisting
our
First Nations in Treaty 2 Territory, and local Nations who assert the right to govern themselves through the
Seven steps of rebuilding: